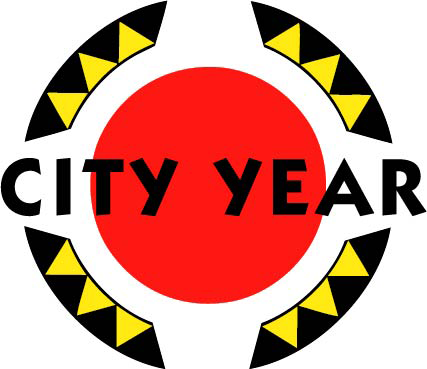 DIRECTOR OF DEVELOPMENT
ABOUT CITY YEAR LOS ANGELES
City Year Los Angeles (CYLA), founded in 2007, is one of the largest City Year locations, leveraging the unique assets of the Los Angeles Philanthropic community to help meet the tremendous need for educational equity in our city.  Fueled by national service, City Year partners with public schools in 29 communities across the U.S. and through international affiliates in the U.K. and South Africa and empowers students and schools to succeed. A 2015 study shows that schools that partner with City Year were 2-3 times more likely to improve on math and English assessments.
Diverse teams of City Year AmeriCorps members provide research-based student, classroom, and school-wide support to help students stay in school and on track to graduate from high school, ready for college and career success.  A proud member of the AmeriCorps national service network, City Year is supported by the Corporation for National and Community Service, local school districts, and private philanthropy from corporations, foundations, and individuals.
ABOUT THE POSITION (SEE CANDIDATE PROFILE)
To lead its philanthropic efforts, CYLA is looking to fill the role of Director of Development (DOD). Reporting to the Executive Director, as a member of the site's Senior Leadership Team, the DOD will lead a team of 10 and is responsible for developing and implementing the fundraising strategy to raise and sustain at least $8.1M from the private sector in FY23, and grow annually. The DOD will develop and execute strategic, diversified development plans to raise funds through grant writing, individual giving, and institutional partners, such as corporations and foundations.
The Director of Development (DOD) will be a highly effective storyteller and relationship builder who can bring to life City Year's impact in schools using strong presentation and communication skills that capture the hearts and minds of potential donors and inspires them to support City Year's mission. The ideal candidate has an entrepreneurial mindset with proven fundraising experience, and is a proactive leader, creative problem solver, and strategic thinker with an aptitude for relationship development. This individual is an exceptional leader who sets high expectations and is passionate about empowering and supporting the Development team to meet those expectations.
CORE RESPONSIBILITIES
 Fundraising Strategy
In collaboration with executive leadership, develop and implement a strategic and diversified fundraising plan that meets current goals of $8.1M and anticipates future needs and growth objectives.
Establish short and long-range goals for restricted and unrestricted funding sources, while leading the team in developing strategies to approach donors, including the cultivation of new donors.
Deeply understand City Year's work and programmatic needs, and build relationships with the site teams, AmeriCorps members, local alumni, and partners to support fundraising efficacy.
Oversee the planning and implementation of special events to raise the awareness of City Year, fundraise and engage individuals, foundations and corporations as champions and donors.
Oversee planning and execution of an annual fundraiser that generates $2.2 million annually.
 Senior Leadership & Staff Management
Directly manage the Sr. Director of Events & Alumni Relations, Corporate Development Director, Individual Giving Director, Associate Director of Grants, Foundations, and Development Operations Coordinator.
Build and maintain strong relationships with direct reports and development team by creating an environment of open and honest two-way communication.
Ensure the professional accountability with direct reports and development team through clear expectations, positive and constructive feedback, weekly check-ins, and formal performance reviews.
Help shape organizational strategy and implement the site's local operating plan as a member of the Senior Leadership Team, including our ongoing Diversity, Belonging, Equity, & Inclusion work.
Partner with all City Year Los Angeles departments through site events, projects, and cross-departmental committees to ensure site-wide goals are met.
Leadership & Talent Development: successfully leads and coaches' diverse teams to achieve results; sets vision and appropriately delegates tasks; proven ability to engage in cognitive conflict and hold staff accountable; shares leadership opportunities and supports talent development organization wide.
 Advisory Board Management & Major Gifts
In concert with the Executive Director, engage the Board to meet critical financial and advocacy goals for the organization.
Develop strategies to leverage Board member skills, inspiring members to actively open doors and fundraise on behalf of City Year, help organize events, support programming needs, and invest personally.
Primary relationship manager for Development Committee or development focused board members, including Board retention and satisfaction.
Work collaboratively with City Year's national Development team to leverage the greatest resources possible for site and National objectives.
Identify, cultivate, and solicit a diverse base of high-net-worth individual donors with the capacity to make six or seven-figure investments.
Identify major donors' philanthropic interests and oversee the implementation of a major donor stewardship strategy that provides donors with an outstanding experience through their charitable investment of time, advocacy, and financial support.
Lead Site Fundraising
Identify, cultivate, solicit, and steward a diverse base of individual donors, including board members, alumni, parents and families, and friends of City Year.
Oversee the Corporate Development Director to identify, engage, and cultivate a pipeline of corporate prospects that can make annual and multiyear investments at the $25,000+ level with an emphasis on the $100,000 "team sponsor" level.
Oversee the Individual Giving Director to develop and execute a strategic plan to identify a pipeline of prospective new individual donors with potential to make gifts of $10,000 or more, with a goal of securing $3.5M from existing and new individual donors.
Oversee Associate Director, Grants & Foundations in managing portfolio of foundations to maintain $2M+ funding annually with a goal of increasing funding by $250,000.
Oversee the Sr. Director of Events & Alumni Engagement management of the Civic Engagement (CE) Program, City Year's volunteer engagement physical service program that generates $200,000+ in revenue annually through fee-for-service events.
Represent City Year at corporate and community functions to establish and deepen potential and current donor relationships.
Operations & Quality Assurance
Oversee and manage revenue planning and fundraising budgets.
Lead the Development Operations Coordinator in the development business process from donor identification, through collections, to stewardship, ensuring accurate maintenance of records and donor information in the Salesforce database.
Direct monthly pipeline meetings with the Development team and Executive Director to provide updated revenue figures, pipeline reports, and progress towards monthly/quarterly goals.
Identify areas for operational improvements and drive continual improvements of processes.
Oversees the requirements, and processes for reporting accurate revenue.
Provide monthly and as needed revenue reports to Executive Director, Board, and Headquarters staff.
QUALIFICATIONS
An accomplished leader with eight (8) years of proven success in fundraising, including securing six figure gifts.
A least three (3) years of management experience with strong track record of results.
Committed to City Year's mission of partnering with public schools in systemically under-resource communities to prepare students with the skills and mindsets they need to thrive in school and in life.
Ability to develop and translate strategies into action plans that build the capacity of the site/department; creative out-of-the-box thinker.
Culturally competent and a self-reflective leader who understands the effects of race, class, ethnicity, income, sexual orientation, gender identity, national origin, and other issues of difference in society and can lead direct conversations about them.
Experienced leading Board members and staff to support and engage in a development strategy.
Flexible and willing to work outside standard established business hours to meet sudden and unpredictable partnership needs.
Connected to and aware of high-net-worth community via local business, civic, and cultural networks.
Experienced with Salesforce (preferred).
COMPENSATION & BENEFITS
Salary range for this position is $140,000 - $175,000, depending on qualifications and experience. City Year Los Angeles offers an exceptional benefits package for full time employees including health insurance with Flexible Spending Account, paid vacation, holidays, parental leave, 401K, and more. City Year Los Angeles vales work/ life balance and offer flexibility to staff.
City Year is an Equal Opportunity Employer, committed to a diverse workforce. Individuals from all backgrounds are encouraged to apply, including persons with disabilities and veterans.
Envision Consulting was retained by City Year Los Angeles to conduct the search for their incoming Director of Development.
Applicants needing accommodation for any part of the application process may contact Envision Consulting at 626.889.7905 to request and arrange for assistance.